Textile
Organic Solid + Mesh Shopping Bag
Regular price

Sale price

$8.00
Sold Individually
Ingredients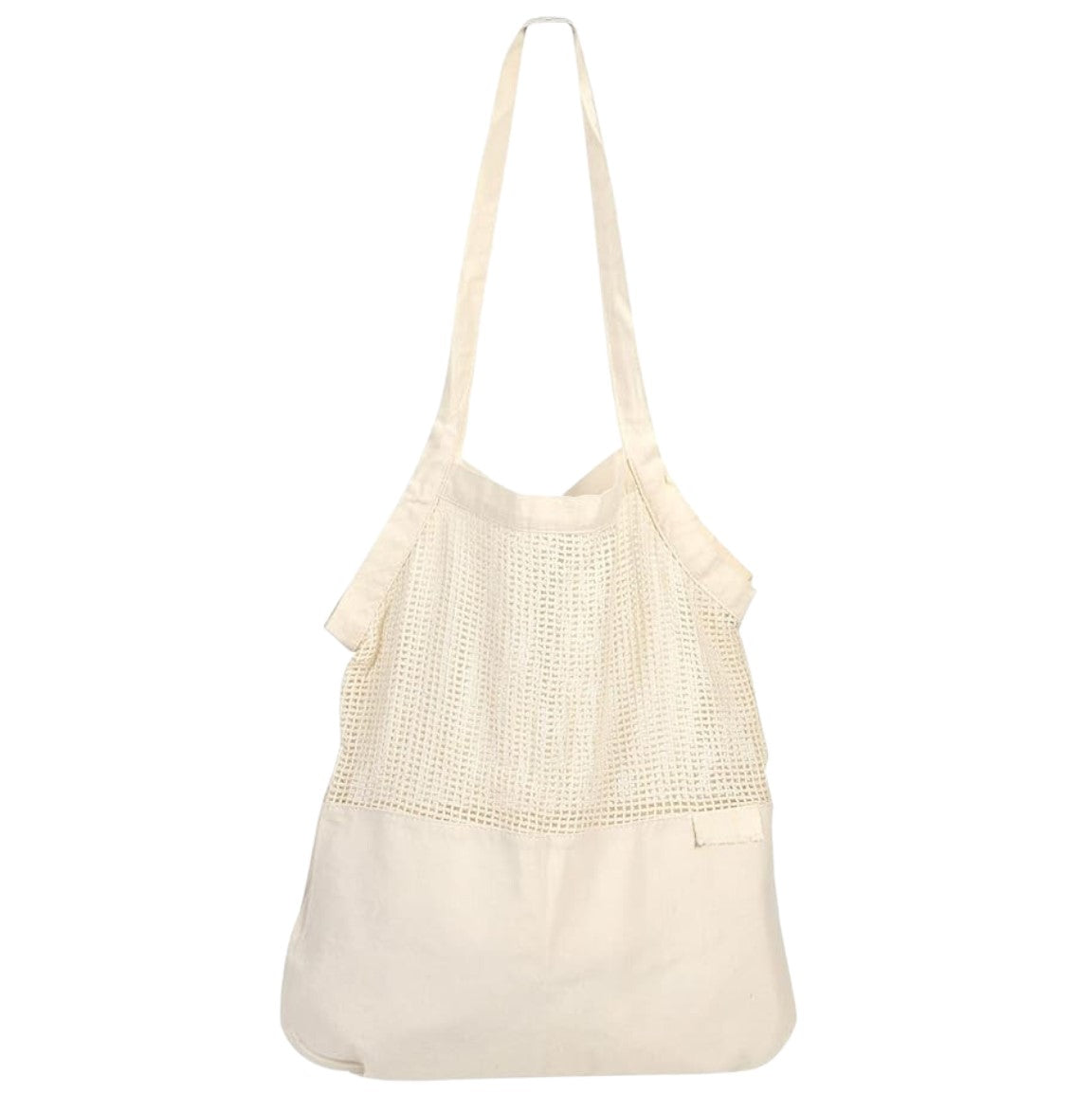 Product Details

Get ready to say goodbye to flimsy plastic bags and hello to our new organic shopping bag! We've designed the perfect companion for your grocery trips that's both sustainable and stylish.

Crafted from a unique blend of 50% cotton and 50% mesh, this bag is the perfect combination of durability and breathability. The cotton half is strong and sturdy, providing a reliable base for carrying heavier items, while the mesh half lets your fruits and veggies breathe and stay fresher for longer.

Not only is our organic shopping bag environmentally friendly, but it's also incredibly versatile. Whether you're picking up fresh produce at the farmer's market, stocking up on pantry essentials at the grocery store, or even heading to the beach for a day of fun in the sun, this bag can handle it all.

But that's not all – our organic shopping bag is also machine washable, making it easy to clean and reuse time and time again. No more dealing with flimsy plastic bags that rip and tear after just one use.

By choosing our organic shopping bag, you're not only making a conscious effort to reduce your carbon footprint, but you're also making a fashion statement. With its unique blend of materials and stylish design, this bag is sure to turn heads and earn you compliments from your fellow shoppers.

Say goodbye to wasteful plastic bags and hello to a more sustainable, eco-friendly, and fashionable way to shop. Get your hands on our organic shopping bag today and make a difference in the world – one grocery trip at a time.

Sold Individually.
Key Benefits

There are several key benefits to using our organic cotton string shopping bag:

Eco-Friendly: Made with 100% organic cotton, it is free from harmful synthetic pesticides and fertilizers that can damage the environment. By using this bag, you are reducing your environmental impact and doing your part to protect the planet.

Sustainable: Organic cotton is a sustainable and renewable resource, which means that it can be grown year after year without depleting the soil or harming the environment.

Plastic-Free: This bag is plastic-free, which means that you are reducing your use of plastic and helping to reduce plastic waste in the environment.

Lightweight and Compact: The bag is lightweight and compact, making it easy to carry and store. It folds up easily and can be tucked into a purse or bag when not in use.

Versatile: The bag can be used for grocery shopping, as a beach bag, gym bag, or even as a stylish accessory for running errands.

Easy to Clean: The bag is machine washable, making it easy to clean and maintain.

Durable: Organic cotton is a durable fabric that can withstand daily use, making it a long-lasting and practical choice for everyday use.
How to use

Using our organic shopping bag is simple and easy! Here are a few steps to get you started:

Bring your bag with you: Make sure to take your organic shopping bag with you before heading out to the grocery store or farmer's market.

Load up your groceries: When you're at the store, load up your bag with all your groceries. The cotton half of the bag is perfect for carrying heavier items, while the mesh half is great for fresh produce and other items that need to breathe.

Secure your items: Once you've loaded up your bag, make sure to secure it so that nothing falls out while you're on the move. You can use the handles to carry the bag or even tie them together to keep your items secure.

Unload your groceries: Once you're back home, unload your groceries and store them away. You can then either fold up your organic shopping bag and put it away for next time or throw it in the washing machine to clean it for your next shopping trip.

That's it! Using our organic shopping bag is an easy and eco-friendly way to shop, and it's a small step you can take to help reduce your environmental impact.